The Big 12 tourney starts in a couple days. Here's the schedule if you haven't already seen it. Now let's get right to the numbers. First, here's how all the teams have been playing over the last 10 games:
Last 10 Games Adjusted Efficiency Averages
Team
Seed
Tempo
Rnk
Offense
Rnk
Defense
Rnk
Pythag
Rnk
Kansas
1
69.8
3
126.6
3
80.7
1
0.9944
1
TexasA&M
2
65.1
7
126.8
2
90.3
2
0.9803
2
Texas
3
67.1
5
128.9
1
94
5
0.9742
3
KansasSt
4
64.6
8
119.1
4
97.8
7
0.9059
4
TexasTech
5
64.3
9
113.5
7
99.7
9
0.8163
8
Missouri
6
69.8
2
117.4
6
98.6
8
0.8811
6
OklahomaSt
7
65.8
6
108.9
9
101.9
10
0.6834
10
IowaSt
8
62.7
10
97.8
12
93
4
0.642
11
Oklahoma
9
61.4
11
109.5
8
90.9
3
0.8947
5
Nebraska
10
61
12
104.4
11
94.6
6
0.7552
9
Baylor
11
67.2
4
118.6
5
103.4
12
0.8291
7
Colorado
12
71.1
1
107.1
10
102.7
11
0.6195
12
Hey, Colorado's 1st in something? What the... oh, tempo. OK. Looking at the Pythagorean rating, the top 3 teams here are no surprise. What might surprise you is that if I made this same chart for ALL of Division I NCAA basketball, those three would be ranked 1st, 5th, and 8th. Texas has officially joined the party. Even more surprising is that all three are top 5 in offense. I haven't actually run the numbers on ALL teams, so the ranks in this next table are where they rate among the 78 that I have looked at. Any team with an outside shot at a 12-seed or better in the big dance was included, along with all Big 12 teams.
Last 10 Games Rank Among All Teams Within Shouting Distance of Getting an At-Large Bid to the NCAA Tournament
Team
Tempo
Offense
Defense
Pythag
Kansas
7
5
2
1
TexasAM
36
3
20
5
Texas
18
1
41
8
I'd be shocked if somebody outside that group cuts down the nets in Oklahoma City. That said, if it happens, it's bound to be a team out of the KU side of the bracket. Any dark horse from the other side will have to take down KU, A&M, and Texas. Sorry, but nobody's winning a tournament by beating all three top-10 rated Big 12 powers in consecutive games. That's impossible.
I'm talking a lot about the top seeds here because I'm not going to have time to do individual game previews of the later rounds. Don't worry, we'll get to everyone else right after this page break.
#8 Iowa State vs. #9 Oklahoma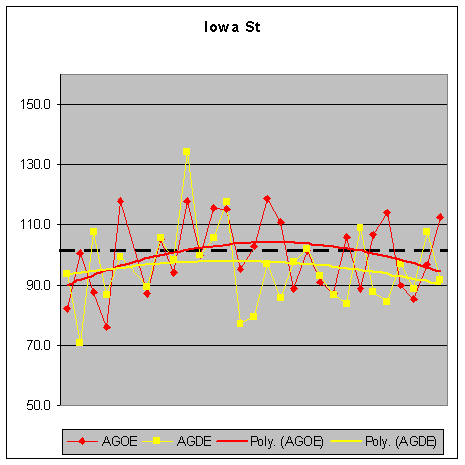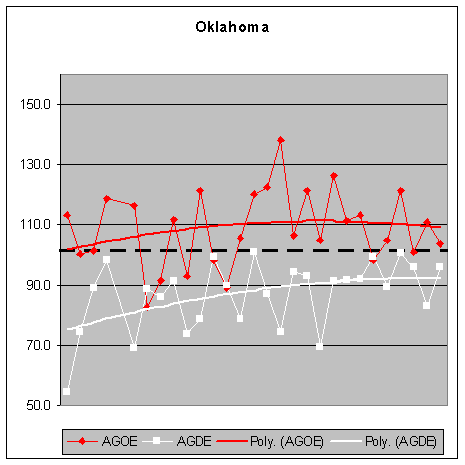 Previous meeting: Oklahoma 51 @ Iowa St 58
Pomeroy prediction: Oklahoma 62 Iowa St 52
Last 10 prediction: Oklahoma 58 Iowa St 50
Trendline prediction: Oklahoma 56 Iowa St 50
Since these two teams last met, Oklahoma hasn't won a game. Slumping? Not particularly, actually, just a really tough stretch (vs Texas A&M, @ Missouri, vs Texas, vs Kansas, @ Kansas St). I think this game will be a relief for Oklahoma, and they should take advantage of the weaker competition.
#5 Texas Tech vs. #12 Colorado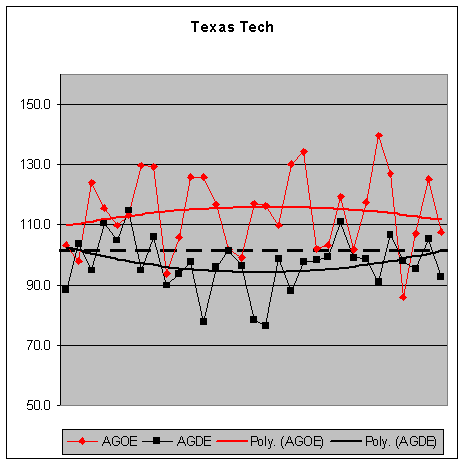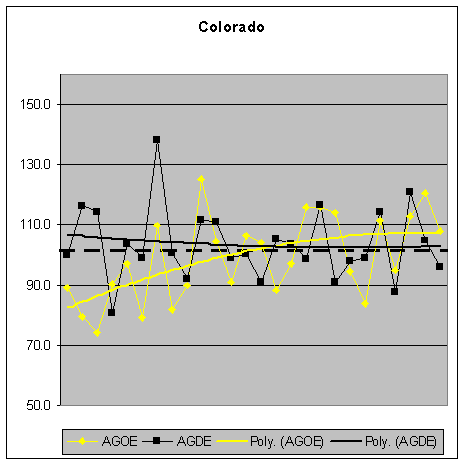 Previous meeting: Colorado 74 @ Texas Tech 95
Pomeroy prediction: Texas Tech 82 Colorado 68
Last 10 prediction: Texas Tech 78 Colorado 72
Trendline prediction: Texas Tech 78 Colorado 74
Colorado started out the year disgustingly bad, but they've improved recently to level of "below average" (for a major conference). Maybe that's true, and maybe Texas Tech is maddeningly inconsistent this year. The recent play says this is gonna be a close game. Still, I don't see a Bob Knight-coached team bowing out in the first round of a conference tourney to the worst team in the conference. (Cue someone leaving a comment informing me that this has happened in the recent past.). I say the General shows up and hunts him some Bison. With a chair.
#7 Oklahoma St. vs. #10 Nebraska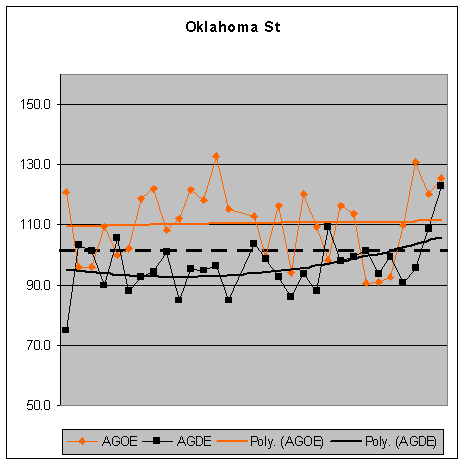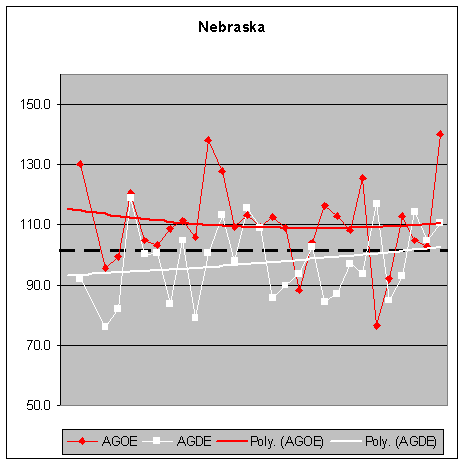 Previous meeting: Oklahoma St 73 @ Nebraska 85
Pomeroy prediction: Oklahoma St 68 Nebraska 64
Last 10 prediction: Nebraska 62 Oklahoma St 62 ... tossup
Trendline prediction: Oklahoma St 69 Nebraska 68
Couldn't get enough of Monday's OSU-Nebraska game? You're in luck - they get to play again 3 days later. The Sooners are 16-3 in games played in the state of Oklahoma, and the last game they played in OKC was a 2-OT win over Pitt. I know all the predictions say this will come down to the wire, and they're probably right. But I'm looking for the crowd to get behind O State at the end and help them pull out the win.
#6 Missouri vs. #11 Baylor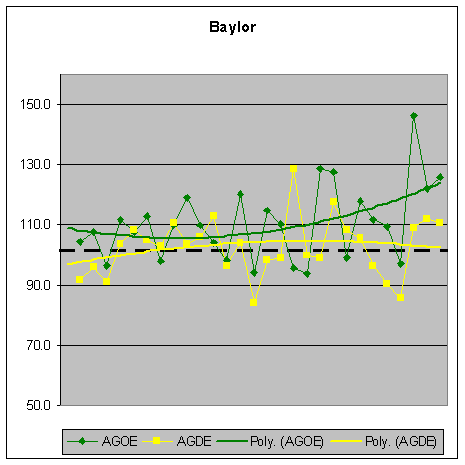 Previous meeting: Baylor 71 @ Missouri 78
Pomeroy prediction: Missouri 82 Baylor 75
Last 10 prediction: Missouri 84 Baylor 80
Trendline prediction: Baylor 91 Missouri 85
Here's the first round match up for those of you who enjoy watching the NBA All-Star game. No, not the "star-filled and skillful" part. The "fast pace and no defense" part. Here's my angle. Neither team defends the 3-pt line well. On offense, Baylor shoots a lot of them (3's) but makes them at an average rate, while Missouri shoots them well but doesn't shoot that many of them. I think they'll both shoot quite a few in this game, and whoever shoots them better walks away the winner. But I have no idea what I'm talking about.
And The Other Graphs
(Those Lazy Teams That Don't Play Thursday)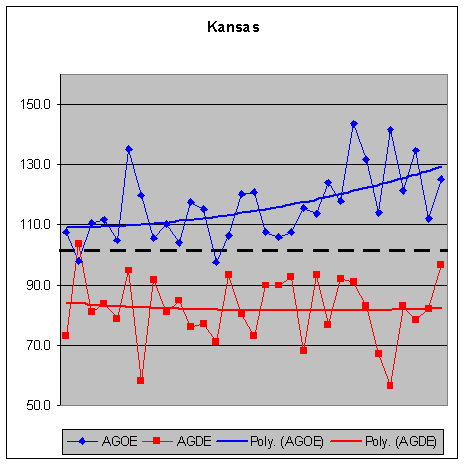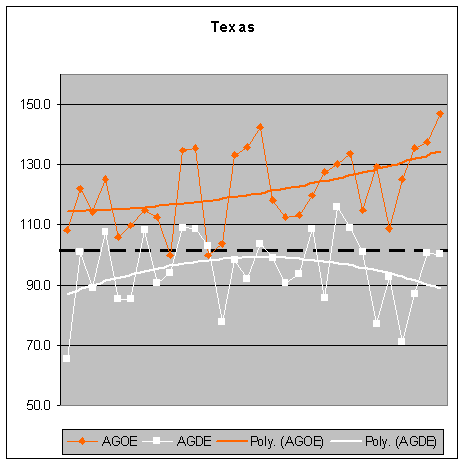 I feel bad, I haven't really said anything about Kansas State. There, now I have.